Time Tight for Spillway Repair #679
By: LowerCal , 10:09 PM GMT on April 07, 2015

Click for weather forecast

This blog entry's primary but not entire focus will be on lower (& upper) California weather - specifically the 4 year (as of April 2015) and ongoing drought. Updates will appear in the comments.

Excellent links relevant to spaceflight and astronomy appear below in this entry. I have not updated these links in a while so if you find a link doesn't function or if you have a candidate for addition to these links post a comment or send me a WUmail.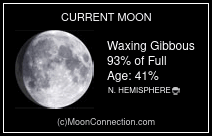 moon info

***** Links *****

Today - SpaceWeather.com,
EarthSky,
Astronomy Picture of the Day,
Lunar Photo of the Day,
365 Days of Astronomy
& Bad Astronomy | Discover Magazine
This Week - SkyandTelescope.com - This Week's Sky at a Glance,
SkyWeek | Sky and Telescope TV,
& Jack Horkheimer - Star Gazer, Current Scripts
This Month - SkyandTelescope.com - Sky Tour Podcasts,
& HubbleSite - Tonight's Sky: Your guide to constellations, deep sky objects, planets, and events
Anytime - Stellarium (free planetarium for your computer),
Sky & Telescope Interactive Sky Chart (online planetarium),
& The new world atlas of artificial night sky brightness

Visible Satellites:
Simplest - Satellite Flybys by SpaceweatherPhone.com
More satellites and more info - Heavens-Above.com.

Launches:
Spaceflight Now - Worldwide Launch Schedule,
Vandenberg AFB Launch Schedule,
& Wallops Flight Facility Launch Webcast & Blog
Reentries - Center for Orbital and Reentry Debris Studies - Upcoming & Recent Reentries

Live Aurora Cams:
Sodankyla, Finland,
Kiruna, Sweden,
Jokkmokk, Sweden (cam 4),
Jokkmokk, Sweden (cam 5),
Abisko, Sweden,
Reykiavik, Iceland,
Yellowknife, Canada (click on CONNECT AURORAMAX LIVE),
& Poker Flat, Alaska
The views of the author are his/her own and do not necessarily represent the position of The Weather Company or its parent, IBM.
Reader Comments
Lower California Weather & Climate, Spaceflight News and Casual Astronomy
Previous Entries for 2018